The 20th Indian International Film Awards was held on September 18 in Mumbai.
Alia Bhatt looked nothing short of a dream on the red carpet with gold and bronze makeup in a golden pink gown.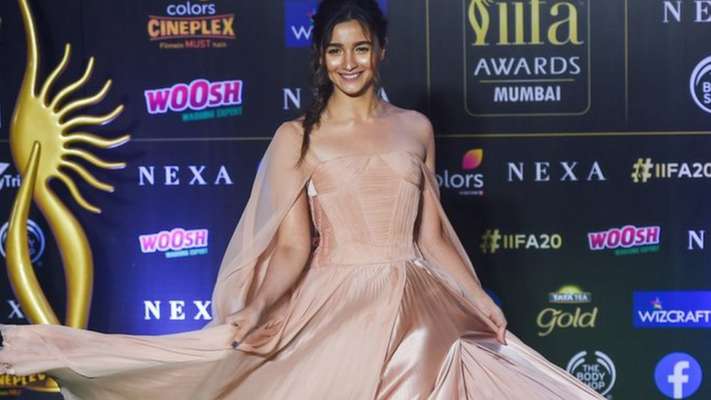 Aaliya Bhatt was awarded the Best Actress for the film 'Raazi' and Ranveer Singh was awarded the Best Actor for the film 'Padmaavat'. While 'Raazi' was selected as the best movie.
Ranveer Singh once again demonstrated his art on this occasion. His impeccable style was always liked.
Ranveer got to watch this time as usual, with the show on stage and the joke with the program presenters.
Among the performers in the program were the Madhuri Dish, also known as 'Dhak Dhak Girl'.
Sara Ali Khan, who resembles Mamata Amrita Singh, is known for her different style and fondness. During the program, Sarah also danced on stage.
Sara Ali Khan was awarded the Best Debutant Actress for her debut film 'Kedarnath'. Ishaan Khatar received the award for Best Debutant in Male Actor for his film 'Dhadak'.
Getty Images
Actor Ranveer Singh once again kept on camera because of his attire. They are known for their unique clothing and style.
Getty Images
Actress Katrina Kaif also won the hearts of fans with her performances.
Among those presenting the program were Aushaman Kharana, along with his brother and one of the actors himself. Apart from this, actress Radhika Apte also helped present the program.
Ayushman Khurana's film 'Indindhund' was given the 'Best Story Award' for the story.
In addition to the usual awards, this time, IIFA has won the Best Actor and Film Award for the past twenty years.
Ranbir Kapoor was awarded the honor of best actress Deepika Padukone and best actor of the last twenty years. While the film 'Don't Say Love' was chosen as the best film of the last 20 years.